OUR BRAND PROMISE
NEXT DAY DELIVERY
UNMATCHED NETWORK
*Note: Some images are for illustration. Not all accessories shown are part of the product.
User Manual
Demo Video
Sennheiser PXC 550 Wireless Bluetooth Headphone, Black
Key Features
•

NoiseGard hybrid adaptive noise cancellation

•

Up to 30 hours of battery life, dynamic closed transducer

•

Built-in limiter avoids sudden & extreme sound levels

•

3-Mic Beamforming array pick-up, NFC enabled pairing

See more >>
Offers (1)
• Digital India 26% cashback T&C
• No cost EMI available if this is the only product in cart. Read T&C
• Warranty: 1 Year manufacturer warranty
Offer Price:

₹14,995

M.R.P

₹29990

(Inclusive of all taxes)

You Save: 50%(₹14,995)
Sold Out
This product is currently out of stock
Description

Specifications

FAQs
Indulge in wireless simplicity with the Sennheiser PXC 550 Wireless Headphones. These Headphones have been designed for delivering rich quality sound, anytime, anywhere. The wireless headphones give you the freedom to move about uninhibitedly so that you never miss out on a single beat. You can feel the beats pulsating through you as you plug in these headphones. The sound clarity will wow you as it transports you to a world of musical greatness.
FROM THE MANUFACTURER

The Sennheiser PXC 550 Wireless turns every journey into a first-class experience. Enjoy Sennheiser's trademark high-quality sound and NoiseGard hybrid adaptive noise cancellation, all packed into a sleek foldable design. Control your sound using the ear cup-mounted touch control panel, and an intuitive voice prompt system. With up to 30 hours of battery life, the PXC 550 Wireless lets you travel around the world in comfort on a single charge.

Transform Your Journey Upgrade To First Class
Sennheiser's new headphones are designed specifically for the frequent traveler.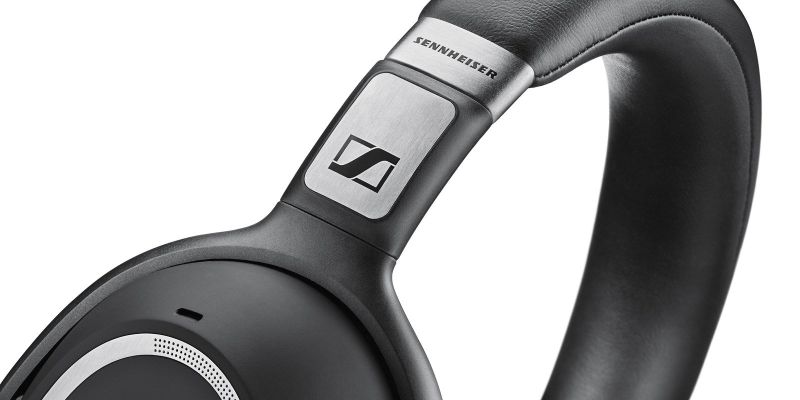 * This Sennheiser PXC 550 Headphone image is for illustration purpose only. Actual image may vary.

Escape Into Your Own World Of Music
The world can be a noisy place. The PXC 550 Wireless allows you to shut the door on it. Create intimate space in the most chaotic of environments with Sennheiser's NoiseGard™ Hybrid adaptive noise cancelling technology. The louder the noise around you, the harder the technology works, and the more satisfying the sound. The PXC 550 Wireless boasts extraordinary battery life of up to 30 hours* of continuous use. So now you can span the globe on a single charge, without leaving your own private world.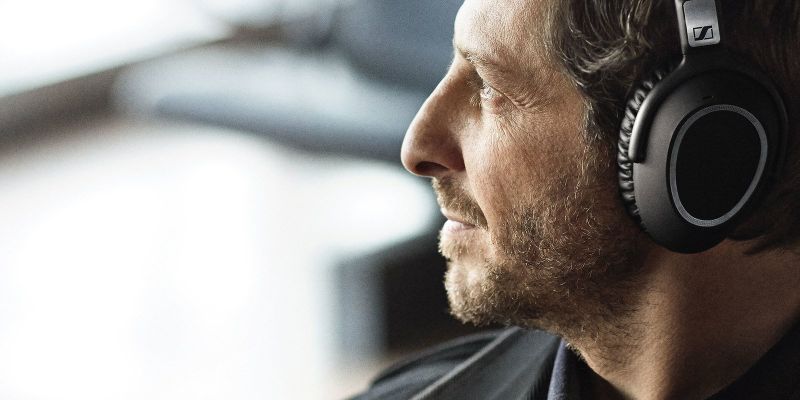 * This Sennheiser PXC 550 Headphone image is for illustration purpose only. Actual image may vary.

Freedom Of Movement
You can't beat the freedom of travel and music. The PXC 550 Wireless combines both in a luxury headphone designed for any journey. Imagine a world without cables. Instead, connect to your device with Near Field Communication (NFC) enabled pairing, the latest in high-tech transmission. And the ground-breaking noise cancellation works with or without the wire.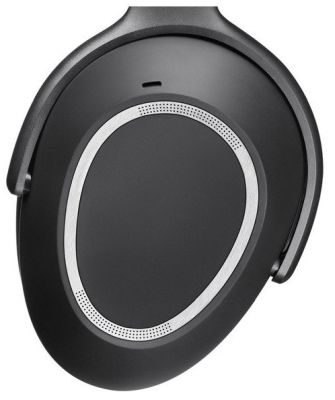 * This Sennheiser PXC 550 Headphone image is for illustration purpose only. Actual image may vary.

Take Control Of Your Communications
It's time to make yourself heard. With unrivaled speech clarity for personal and business calls, the PXC 550 Wireless identifies and filters out unwanted ambient noise, making sure you're perfectly understood-no matter how loud your environment. Just use the touch sensitive trackpads on the earcups to make and receive calls.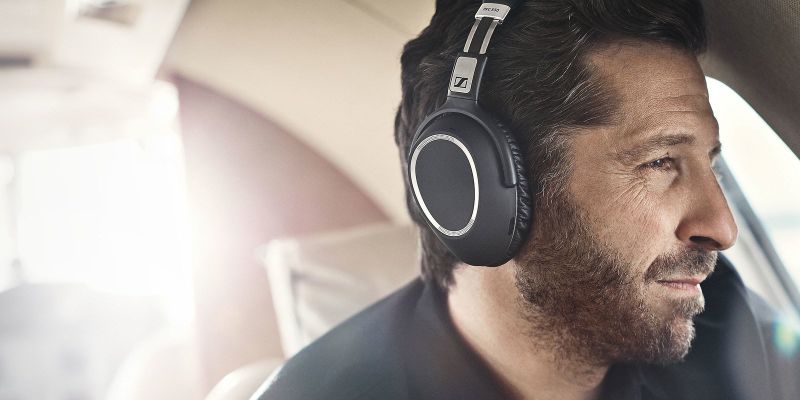 * This Sennheiser PXC 550 Headphone image is for illustration purpose only. Actual image may vary.

Feel The Comfort
Introducing one of the world's most lightweight headsets. The PXC 550 Wireless is designed for long listening sessions, and for people on the move. To guarantee the best fit possible, Sennheiser studied the human ear, and conducted extensive tests to engineer the headset to the perfect size. The result was specially designed earpads and an ergonomic headband. The headset also discreetly folds away into a stylish, compact travel case with a fold-flat collapsible frame. Now, superior comfort and class-leading design is yours.

* This Sennheiser PXC 550 Headphone image is for illustration purpose only. Actual image may vary.

Touch Sensitive Trackpad
Integrated into the earcups they give you complete control on the move, from volume control to skipping a track to taking a call - all with the swipe of a finger.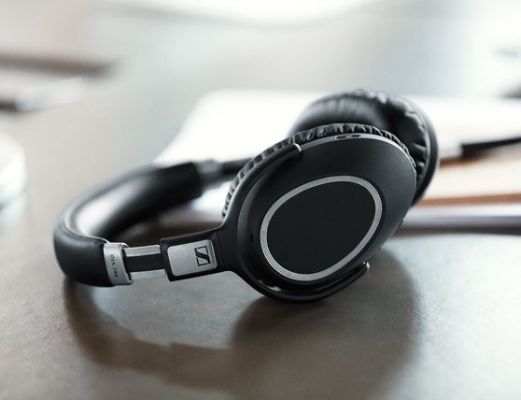 * This Sennheiser PXC 550 Headphone image is for illustration purpose only. Actual image may vary.

Built-In Limiter
The PXC 550 Wireless has a built-in limiter that avoids sudden and extreme sound level peaks, e.g. when you are connected to an in-flight entertainment system that is also used for crew announcements.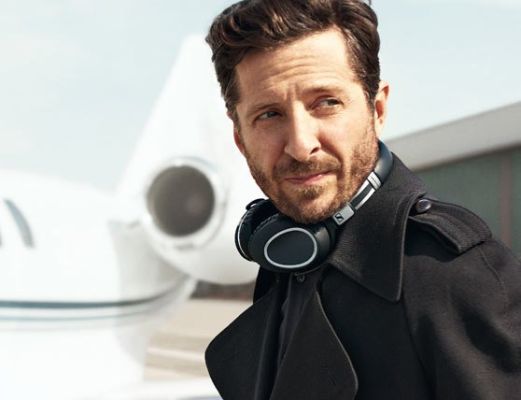 * This Sennheiser PXC 550 Headphone image is for illustration purpose only. Actual image may vary.

CapTune Support
The PXC 550 Wireless is fully compatible with CapTune, Sennheiser's premium quality music player and powerful sound tuning app to perfectly adjust the feel of your music to your personal preference.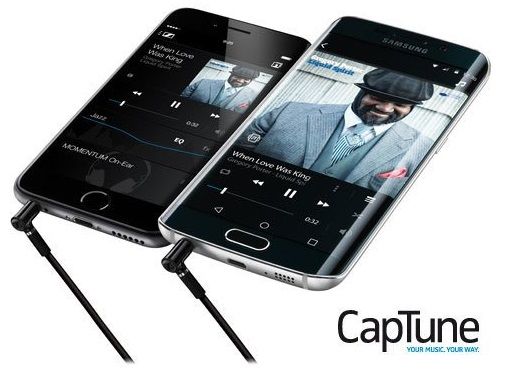 * This Sennheiser PXC 550 Headphone image is for illustration purpose only. Actual image may vary.

Fold Control
The PXC 550 Wireless seamlessly anticipates your needs by powering on as you unfold it, automatically pausing your track when you remove it and switching off when you fold it away.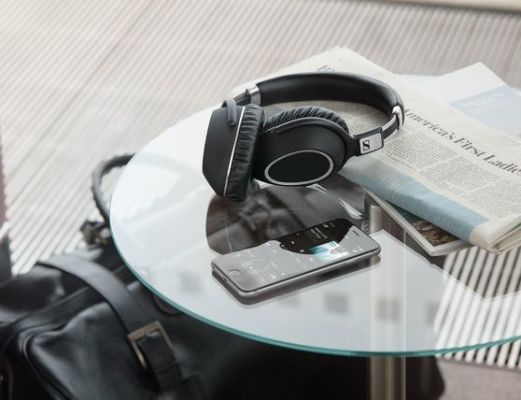 * This Sennheiser PXC 550 Headphone image is for illustration purpose only. Actual image may vary.

Accessories
The PXC 55O comes with: cable with inline remote control, carry case, USB cable, IFE adapters, quick setup and safety guide.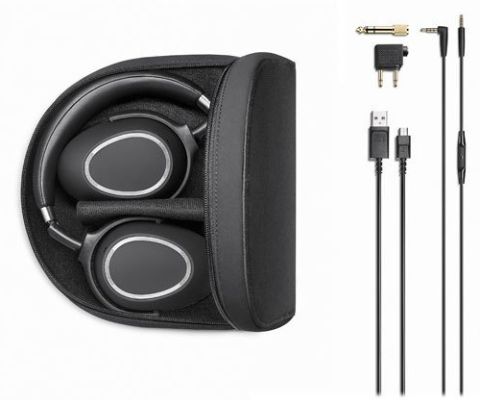 * This Sennheiser PXC 550 Headphone image is for illustration purpose only. Actual image may vary.
---
Specifications
Headset Audio Related
Response bandwidth

17 Hz to 23 kHz

Speaker Distortion

less than 0.5 %
Headset Controls
Phone APP-based Controls

Yes
Battery Related
Battery Charge Time

Upto 3 hours

Battery Life

Upto 30 hours
Physical Dimensions
Adjustable Headband/Neckband

Yes
Additional Features
Features

3-Mic Beamforming Array Pick-up Pattern
AptX Codecs
Impedance: 46 ohm (Passive), 490 ohm (Active)
In The Box & Warranty
In The Box

Cable with Inline Remote Control, Carry Case, USB Cable, IFE Sdapters, User Manual
---
FAQs
What does "Circumaural" mean?
CIRCUMAURAL headphones (sometimes referred to as "Around Ear" headphones) encircle the ear creating a seal thereby effectively reducing ambient noise from getting to the ear. This is known as passive noise reduction. This type of headphone is most effective in a high noise environment where it's necessary to eliminate as much of the environmental noise as possible for effective communication.


How do I get the best transmission range out of my wireless headphones?
While the overall transmission range for wireless headphones is mostly determined by the wireless technology being utilized by the individual wireless headphone product there are multiple external factors (like obstacles, audio signal strength, wireless signal congestion, etc) that can effect the wireless signal transmission range of wireless headphones.
Obstacles are one of the main factors that can effect the transmission range of the wireless signal. While the wireless signal (with the exception of infrared signals) can pass through obstacles (like walls) ultimately range will be affected (likely reduced) by passing through these obstacles and the more dense the obstacle the greater the effect will be on the signal. For example a signal passing through a glass window won't be affected very much whereas a signal passing through a concrete wall will be effected much more greatly. Having a clear line of sight does provide the best transmission range.
The audio signal being output by your audio source to the transmitter of the headphones is another key factor in transmission range. A weaker audio signal going into the transmitter means the transmitter has a weaker signal to work with which can in turn reduce the transmission strength which ultimately affects range. Ensure that your audio source is outputting the best possible signal for the transmitter to use.


What is A2DP and what does it do?
A2DP (Advanced Audio Distribution Profile) is a Bluetooth profile that defines how multimedia audio can be streamed from one device to another over a Bluetooth connection.
Most Sennheiser Bluetooth headphones utilize the A2DP profile as it allows for the best audio transmission over Bluetooth hence providing the best audio in the headphones.
NOTE: If the device you are connecting to does not support A2DP there may be connectivity issues between the Sennheiser unit and the device. In situations like this most Bluetooth Chipset manufacturers offer firmware updates to the Bluetooth chip to allow the A2DP profile to be utilized.


What is Active Noise Cancelling?
Noise cancelling headphones work by identifying the frequencies of noise outside the headphones and creating the exact opposite frequencies. The two sets of frequencies cancel each other out so the brain thinks that no noise is present.
As this happens there will always be a very low "white noise" effect. This low level "white noise" is considered to be silent because most people are used to having back ground noise present in everyday life so often don't even realize that this "white noise" is present. If your hearing is very attuned you may be more aware of this "white noise" however if audio is present in the headphones then the "white noise" is completely covered over and usually not detected by the human ear.
NOTE: Noise cancelling is most effective for repetitive low level frequencies (like engine noise) but will not block higher level frequencies (like people talking) as much as these frequencies are needed to allow sound to work in the headphones.


How do I know if the wireless headphones will work on my audio device?
Our Wireless Headphone Systems can be connected into virtually any audio device and it is just a matter of identifying the appropriate audio output port and then having the appropriate connecting plug or component.
The type of connector you have available will depend on the Sennheiser Wireless Headphone System that you choose. The type of audio output that you will have available to connect into will depend on the audio device you are connecting to.
Typical audio output ports include:


3.5mm headphone port
Red and white RCA audio output ports
Digital audio output (either optical or coaxial)

NOTE: In some instances an adapter or extra component will be needed to make the appropriate connection.
For example to change a 3.5mm headphone plug to an RCA connection you would use a female 3.5mm to male RCA adapter.
For example to change an analog connection (3.5mm headphone plug or red and white RCA plugs) to a digital connection (ie: optical) you would use a digital to analog decoder (like the OREI DA 34).


What do I do when there is wireless signal (or WiFi) interference?
The wireless headphones that utilize a digital transmission signal operate in the unlicensed 2.4 Ghz range as do many other wireless devices (like WiFi routers, wireless printers, etc) and the headphones have a specific frequency range on which they can operate. The headphones scan the local wireless signal environment and then automatically select an unused frequency within their designated range. The headphones are designed to work in conjunction with other wireless devices without the different devices interfering with each other.
Typically the bandwidth of the WiFi router is greater than that of the headphones and it actually encompasses the bandwidth that the headphones want to use. Most of the time the two signals are away from each other and there is no issue. Occasionally if the WiFi router has established it's signal in the bandwidth that the headphones want to use then the two signals butt up against each other this can cause issues. Sometimes it is possible to change the WiFi router frequency manually by using a switch on the router itself.
In situations where the WiFi router cannot be changed manually the simple solution is to turn off the headphones and the WiFi router. Start the headphones and let them run for 15 minutes to establish their signal and then turn on the WiFi router. The WiFi router will "see" the signal of the headphones and establish it's own signal in a different part of the bandwidth and the two devices will work without interfering with each other. NOTE: Once this process has been done the signals are established and will remain established even with a device is turned off.
If the above solution does not resolve the issue it may be a situation where the wireless environment is too crowded and the multiple wireless signals keep butting up against each other and causing issues. To resolve this some wireless signals would need to be removed from the environment (ie: turned off). For example if a wireless printer was turned on it is creating wireless signal that would be part of the wireless signal congestion. If the printer is not used all the time then it could be turned off to reduce the congestion and allow the other wireless devices (like the headphones) to work.


What is the difference between "open" and "closed" ear cups?
An open (sometimes referred to as "open aire" headphone avoids adverse resonating effects in the earcup thus offering best possible sound reproduction with the utmost in transparency. The trade-off is that at extreme volumes some sound will leak out.
A closed headphone isolates you from your environment and vice-versa (ie: the sound is contained within the headphones). This is perfect for critical listening or a situation where you do not want to disturb/be disturbed.
With Sennheiser headphones the audio will always be accurate and responsive and is sure to please no matter what situation you need headphones for so it is personal preference as to whether "open" or "closed" headphones are used.



What is NoiseGard?
Flying can be particularly tiring, as passengers on board of a plane are often exposed to a continuous noise level of up to 80 dB/SPL. And on board of a train it can sometimes become loud as well. Sennheiser's patented NoiseGard technology makes travelling as relaxed as possible by letting you enjoy music in peace. The innovative NoiseGard /digital system now offers travelers a choice of three noise-cancelling profiles – optimized for the different types of surrounding noise encountered while travelling.
Active noise cancellation: the idea is based on the physical principle of noise and anti-noise, which was researched for the first time by the physicist Paul Lueg in the early 1930s. Put simply, an artificially generated sound field that is phase-inverted to the sound field of the noise has the effect of cancelling out the unwanted noise. Sennheiser's NoiseGard technology works as follows: miniature microphones integrated into the headphones pick up the low-frequency noise close to the ears. Sophisticated electronic circuitry calculates a sound wave that is phase-inverted by 180 degrees to the unwanted noise. Directly at the ear, the noise and anti-noise cancel each other out almost completely. As a result, particularly annoying low-frequency noise is dramatically reduced.


What means NFC Near Field Communication?
Near-field communication (NFC) is a set of communication protocols that enable two electronic devices, one of which is usually a portable device such as a smartphone, to establish communication by bringing them within 4 cm (1.6 in) of each other.
NFC devices are used in contactless payment systems, similar to those used in credit cards and electronic ticket smartcards and allow mobile payment to replace/supplement these systems. NFC-enabled devices can act as electronic identity documents and keycards. NFC offers a low-speed connection with simple setup that can be used to bootstrap more capable wireless connections.


What are the basic differences between the different wireless headphone models?
Sennheiser offers a range of wireless headset options that utilize a variety of audio transmission signals (including Radio Frequency and Digital Audio Signals) and both on ear and around the ear models to suit different wearing preferences.
These wireless headphone systems can be connected via a 3.5 mm plug into a dedicated headphone jack (which will often cut sound to the external speakers) OR to the RED & WHITE RCA audio output jacks (often found on the back of the TV, cable box, receiver, DVR, etc.) and when connected in this manner they will allow for operation of both the headphones and the external speakers. All models offer unique functions yet will be able to provide an excellent listening experience and personal preference will play a large part in selection.
Our range of wireless headphones can be seen on our website (http://en-us.sennheiser.com/wireless-tv-headphones).


Can I listen to a TV with Bluetooth headphones?
We only recommend Bluetooth headphones for TV watching if the latency of the transmission is sufficiently low, e.g. when transmitter/audio source and headphone both support aptX Low Latency or similar.