OUR BRAND PROMISE
NEXT DAY DELIVERY
UNMATCHED NETWORK
*Note: Some images are for illustration. Not all accessories shown are part of the product.
Samsung 674 litres Side-by-Side Refrigerator, Starry Gold RS62K6007FG/TL
Key Features
•

Twin cooling plus for optimal humidity care

•

Premium design that brings elegance to any modern kitchen

•

Digital inverter technology, tempered Glass shelf
• No cost EMI available if this is the only product in cart. Read T&C
• Warranty: 1 Year manufacturer warranty
Description

Specifications
You're looking at the Samsung RS62K6007FG/TL side-by-side refrigerator. Measuring 72.1 cm in depth, 90.8 cm in width and 182.5 cm in height, this 674-litre refrigerator is suitable for a family of 6 or more members, and can be placed in the kitchen or the dining area.  The right side of the refrigerator consists of the fridge compartment while the left comprises of the freezer compartment. The fridge compartment has a sturdy fridge adjustable shelves that not only lets you store bulky containers with ease but can also be adjusted to make extra storage space if required. The two large vegetable and fruit bin in this fridge allows you to store a sufficient amount of vegetables and fruits in an organised manner, thus retaining their shelf-life and freshness for long. The moveable tray in the fridge compartment offers ample space to store foods like; sandwich, donuts etc. It also has a separate egg tray to store and protect the eggs from damage. The fridge compartment also has side racks to store foods, like cheese, sauces, snacks, tall bottles of water and juice. The freezer compartment has adjustable freezer shelves that offer ample storage space to store frozen foods like; frozen yoghurt, ice-cream etc. The dried food and meat storage bin let you store items like chocolates, dry fruits and meat items without clutter. The Active fresh keeper technology keeps the fridge clean and hygienic, while the anti-bacterial filter eliminates the growth of bacteria inside the refrigerator, thereby ensuring the food remains fresh. The Precise Chef Cooling technology frequently senses changes in the temperature and precisely controls the operation of the compressor, thereby minimizing the fluctuation within +0.5 degree Celsius or -0.5 degree Celsius. The Twin cooling plus system cools the compartments separately to stop unexpected odours spreading from fridge to freezer, thereby keeping the food items fresh. This Samsung refrigerator comes with eco-friendly R600 a refrigerant, which is CFC and HFC free. 
FROM THE MANUFACTURER
Optimal Humidity Care For Food
Twin Cooling Plus cools the fridge and freezer compartments separately. Independent evaporators and cooling systems ensure the optimal environment, with high humidity and no mixing of odours, so food stays fresher.

* This image is for illustration purpose only. Actual image may vary.
Precisely Maintains Freshness
To keep food fresh for longer Precise Chef Cooling technology minimises any temperature fluctuation to within just ± 0.5 degree C* by frequently sensing changes and then precisely controlling the operation of the compressor.
* Based on internal testing. Compared to Samsung conventional models with a 3 degree C variation.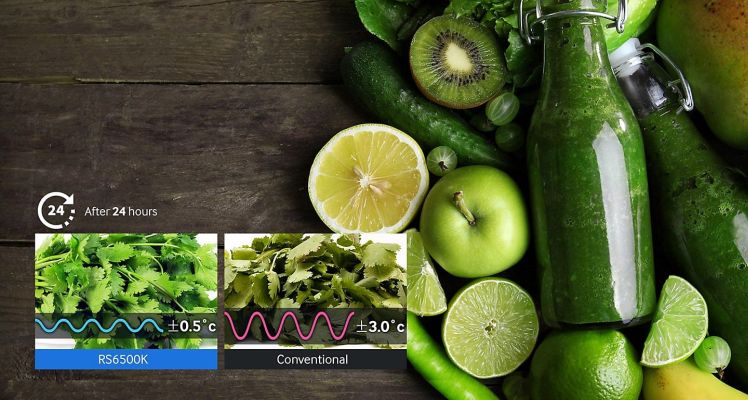 * This image is for illustration purpose only. Actual image may vary.
Harmoniously Colourful Styling
A premium design brings refined elegance to any modern kitchen with a choice of trendy colours, such as Refined gleam. And its counter-depth design doesn't stick out or need any special installation.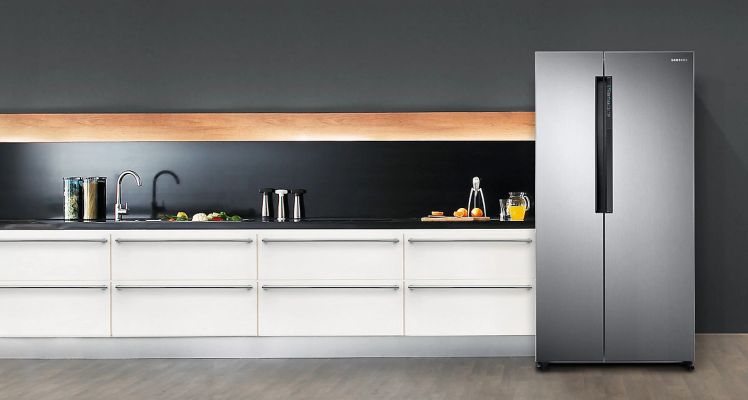 * This image is for illustration purpose only. Actual image may vary.
More Space To Store More Food
Has a very spacious interior with a huge 620 liter capacity. There's plenty of room to store your weekly groceries and it's much easier to keep everything neatly organised, so you can quickly find things you need.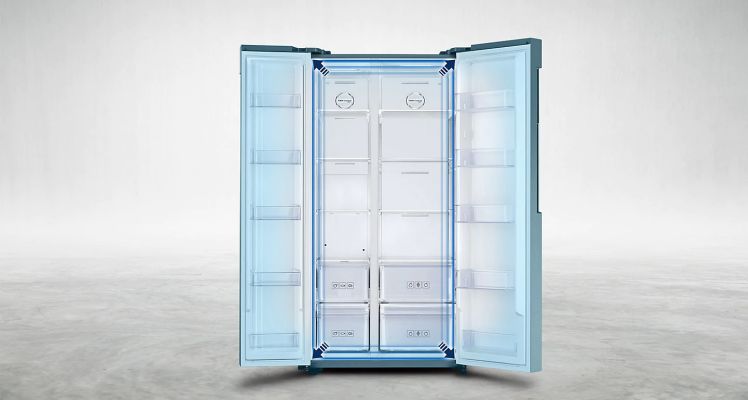 * This image is for illustration purpose only. Actual image may vary.
Go ahead and add this product to the cart with confidence at
www.reliancedigital.in
.
---
Specifications
General Information
Refrigerator Type

Frost Free

Refrigerator Style

Side-by-Side Refrigerator
Refrigerator Operations
Refrigerator - Interior Lamp

Yes

Refrigerator Shelf Type

Tempered Glass

Vegetable & Fruit Drawer

Yes
Freezer Related
Freezer - Interior Lamp

Yes