Demo Video
Misfit Vapor MIS7008 Smart Watch, Rose Tone
Gain more with offers (11)
Save more with EMI/Cashback  
T&C
No finance schemes available for this product
Warranty: 2 Years manufacturer warranty
Key Features
1.3 full round AMOLED 326 pixels/inch display

4 GB memory, Bluetooth & Wi-Fi Connectivity

Accelerometer, altimeter & gyroscope sensors

Qualcomm snapdragon wear 2100 processor
Got Feedback to share on this page?
 report here.
MRP:

₹15,995

FREE Shipping!
Sold Out
This product is currently out of stock
Overview

Description

Specifications

Customer Reviews
Overview
You're looking at the MISFIT Vapor MIS7008 Smart Watch. The strap, clasp and vibrant circular touchscreen of this water-resistant smart watch are made using high-quality stainless steel making it corrosion resistant. To sync, download the Wear OS app from the Google Play store or the App Store and you are set. The app lets you set, manage and monitor your personal fitness goals. This swim proof smart watch is suitable for day-to-day activities like; workouts, trekking, swimming, cycling, running, or commuting. The untethered GPS feature frees from carrying your phone along while running and lets you enjoy your run, as it tracks the distance you covered on the watch. This smart watch even calculates your step count and calories burned. It's easy to check your heart rate while running, doing yoga or trying to manage stress at work with this device's heart rate feature as it monitors and displays your real-time heart rate. The sleep tracker in this smart watch keeps a tab of your sleep duration and quality. Along with this, it is even integrated with Accelerometer, Altimeter and Gyroscope sensors. Apart from tracking your fitness, this smart watch lets you read notifications from contacts and third-party apps with a tap. The device also has an LED indicator and vibrates to alert you of incoming calls, text and alarm. This wearable device also lets you activate Google voice assistant for hands-free assistance so that you can make calls, send replies, ask for directions and hear responses through your watch's microphone. Its standalone wireless music player lets you pair your Bluetooth headphones to listen and control music with the option to leave your phone behind so that you can focus on your run or workout. This device runs on Qualcomm Snapdragon and offers 4GB internal storage. Depending on the usage, this smart watch battery can last up to 24 hours in a single charge.
Go ahead and add this product to the cart with confidence at
www.reliancedigital.in
.
---
Description
Step out in style with this trendy and elegant Misfit MIS7008 Vapor Smart Watch. Its interface and virtual bezel allow you to navigate through apps, widgets, and notifications with ease. Moreover, this smartwatch is compatible with iPhone and Android phones.
All You Need To Keep Going
Music straight from your wrist so you can go in tune. View and track heart rate so you can make the most of your workouts. On-display app notifications and alerts to keep you connected (and unplugged). Virtual bezel for quick and seamless navigation without obscuring content. World-class fitness tracking so you can hold yourself accountable. All tucked behind a sleek and vibrant circular touchscreen that is as stylish as it is smart.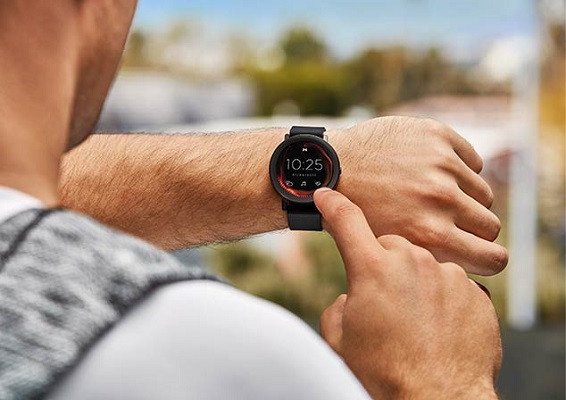 * This MISFIT Vapor Smart Watch image is for illustration purpose only. Actual image may vary.
Go Hard, Go Strong, Go Anywhere
Because not all workouts look the same. Swimproof and water resistant up to 50 meters means Vapor is ready to hit the waves, the pool, or the road during a torrential downpour.Connected GPS helps you keep tabs on your workout and progress by measuring speed, distance, and time. Plus heart rate tracking to keep you motivated and on top.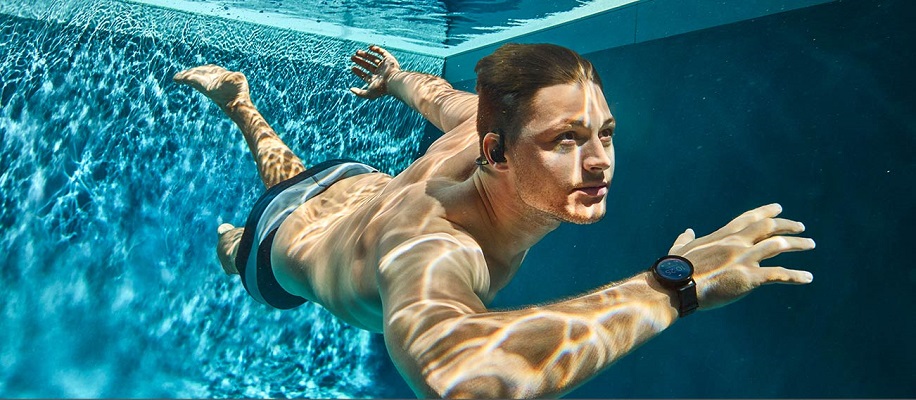 * This MISFIT Vapor Smart Watch image is for illustration purpose only. Actual image may vary.
Go In Tune
Standalone wireless music player + 4GB of storage means you can hit the road for a workout and take your choice of music apps with you - with the option of leaving your phone behind - so you can stay focused on making the most of your workout and living in the moment.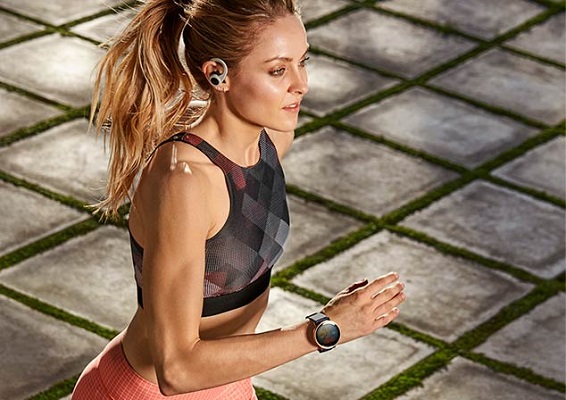 * This MISFIT Vapor Smart Watch image is for illustration purpose only. Actual image may vary.
Just Go
Everything you need for today's connected world, right where you need it. Vibration and on-display alerts when a call, text or email comes in. Instant access to your favourite apps and features and seamless scrolling (without obscuring content) via Vapor's virtual bezel, so you can stay informed, in touch, and on top of the world without ever missing a step. Compatible with iPhone and Android phones.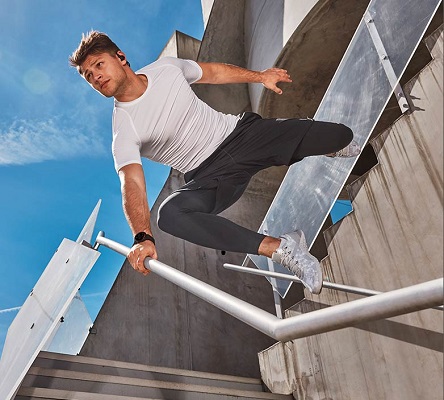 * This MISFIT Vapor Smart Watch image is for illustration purpose only. Actual image may vary.
Go In Style
Interchangeable straps and customizable watch faces mean endless style options so you can keep going, your way. Because there's no one else like you - and we love that - so go ahead, do you. (Oh, and feel free to change you by the day, the hour, or even the minute.)
Always On
Where style meets fitness and technology. Interchangeable straps, a sleek, modern circular display and customizable watch faces which means endless style options and infinite possibilities, wherever life may take you. Whether you're gym, the hitting the trails, the waves, a business meeting, dinner, or even a wedding, Vapor is ready to go - which means more information and more insights are just a tap away at all times.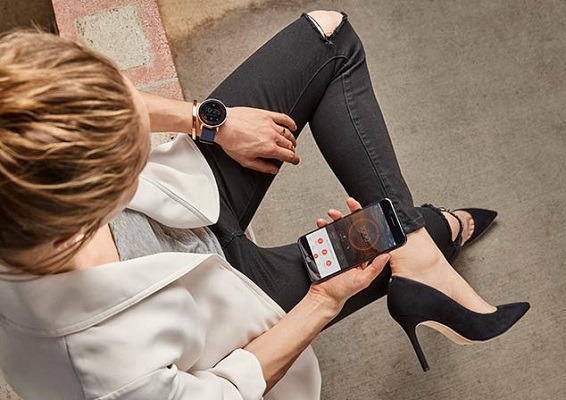 * This MISFIT Vapor Smart Watch image is for illustration purpose only. Actual image may vary.
---
Specifications
Watch Material
Case Material

Stainless steel

Strap Material

Stainless steel
Hardware Details
Processor

Qualcomm Snapdragon Wear 2100 processor
Technical Specifications
Compatible With

iPhone and Android phones

Sensors

Accelerometer, HR Sensor
Additional Features
Features

13.5 mm thick 44 mm brushed stainless steel case
Compatible with all Misfit 20 mm watch straps
Built-in microphone, virtual touch bezel
Altimeter, easy-change straps & buckles
Charges via magnetic charging cradle
In The Box & Warranty
In The Box

Charger, Travel Pouch, Quick Start Guide, Warranty Book
Manufacturing & Packing Information
Name and address of Importer

Fossil India Pvt Ltd, Khasra No 2058/1754/18 and, 2059/1754/18, Waka Mauza Bhatauli K, Baddi, Solan Himachal, Himachal Pradesh, 173205

Name of Seller

Reliance Retail Ltd.

Month and Year of Commodity First Manufactured/Imported/Packed

May' 2018