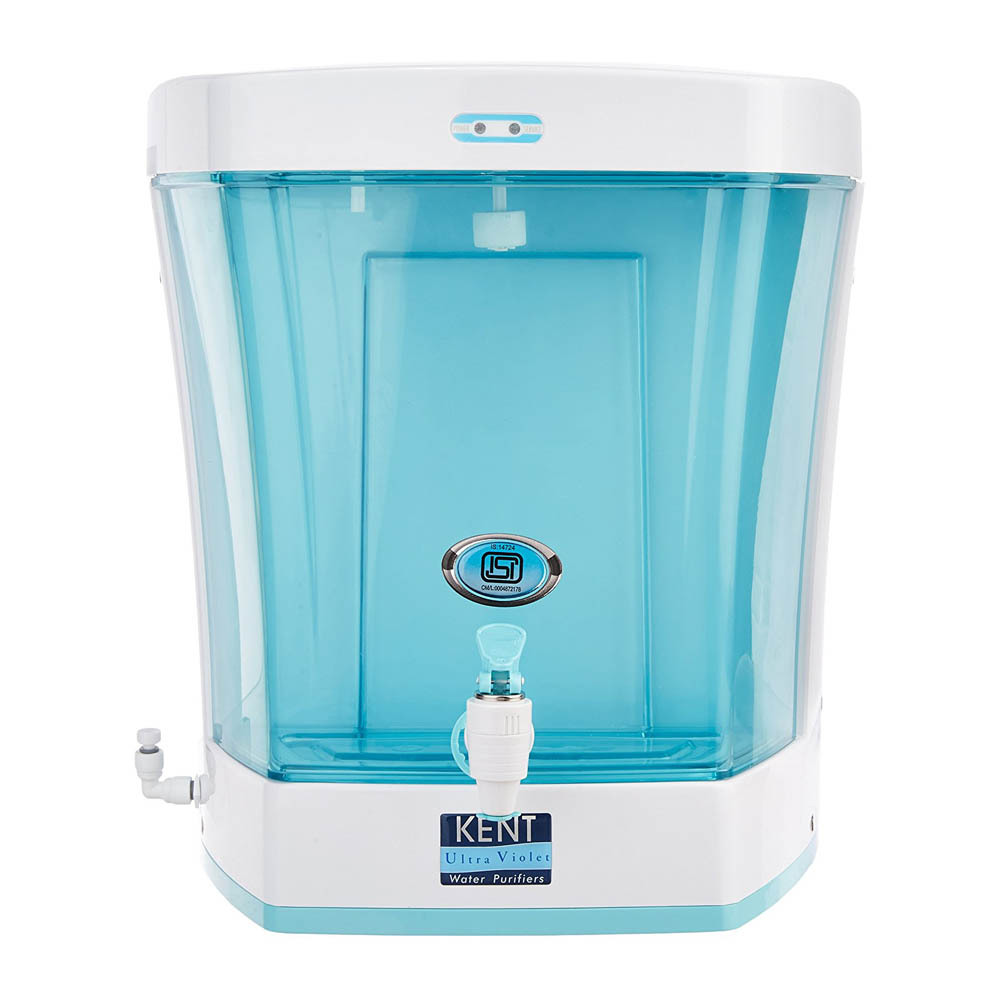 *Note: Some images are for illustration. Not all accessories shown are part of the product.
Kent 7 litres UV + UF Water Purifier, Maxx
Key Features
•

Sediment, Activated Carbon, UF Membrane filters

•

ABS Food grade transperant non-breakable plastic

•

UV Fail Alarm, Filter Change Alarm

•

7 litres storage tank capacity
Offers (1)
• Save additional Rs.1000 Off when product is added to cart
Finance Schemes
No finance schemes available for this product
• Warranty: 1 Year manufacturer warranty
Offer Price:

₹7,999

M.R.P

₹10000

(Inclusive of all taxes)

You Save:

20%(₹2,001)
Description

Specifications
The Kent Maxx UV + UF Water Purifier has an elegant design that is best fit for Indian kitchens and saves expensive counter space, providing convenience while dispensing water. This device can be kept on top of the table or a corner of your modular kitchen. With a capacity of 7 Litres, it has ample capacity to provide fresh and purified water for a big family. Moreover, it works efficiently in order to deliver to you sediment free water every time you are thirsty.

Double Purification
In this purifier, double purification happens first by UV, followed by hollow fibre UF membrane to completely filter out dead bacteria, viruses and cysts, thereby providing 100% pure, safe & tasty drinking water, which is ideal for consumption.

UV Water Purifier with Storage Tank
Designed with excellence, KENT Maxx comes with a storage capacity of 7 litres. The detachable storage tank is also easy to clean on-site without the need of any technician. The model has a transparent cover that makes it visually appealing.

Activated Carbon Pre-filter
The Activated Carbon Pre-filter in the purifier reduces bad taste and odour providing purified water that is healthy, tasty and safe to drink.

Suitable for Low TDS Water
KENT Maxx does not remove dissolved impurities and hence is suitable for use where inlet water, like tap or municipal water, that have low TDS (Total Dissolved Solids).

World's Top Quality Certifications
This water purifier is tested and certified for its performance and quality by world's renowned laboratories, such as the WQA (USA & India), NSF (USA) and ISI (India). These achievements guarantee that KENT not only gives the most purified water but is also trusted by millions.
---
Specifications
General Information
Water Purifier Type

Storage type
Purifier Technology
Filter Types

Sediment Filter, Carbon Filter & Post Carbon Filter

Purification Capacity

Upto 60 litres/hour

Input Water Temperature

10 Degree C - 35 Degree C

Max. Duty Cycle

120 litres/day

Storage Tank Capacity

7 litres

Purifying Technology

UV + UF
Purifier Dimensions
Material (Outer Body)

ABS Food grade transperant non-breakable plastic