JBL Endurance Dive Waterproof Wireless in-Ear Sport Headphones with Built-in Mp3 Player (Yellow)
Gain more with offers (6)
Save more with EMI/Cashback  
T&C
No finance schemes available for this product
Warranty: 1 Year manufacturer warranty
Key Features
8 Hours Of Uninterrupted Music On Full Charge, Also The Battery Speed Charge Gives You An Hour Of Usage with Just 10 Minutes Of Charge

A Built In MP3 Player with 1GB Memory Allows You To Store and Access More Than 200 Music Tracks Directly From Your Headphones

Never Hurt, Never Fall Out, Thanks To Twist Lock and Flex Soft Technologies, These Earphones Are with You All The Time During Your Workout without The Worry Of Falling Off

A Secure Fit Ear Hook Design Automatically Turns The Power On/Off When Putting On or Taking Off The Earphones
Got Feedback to share on this page?
 report here.
₹4,499

MRP:

₹6999

(Inclusive of all taxes)

You Save: 36%(₹2,500)
FREE Shipping!
Sold Out
This product is currently out of stock
Description

Specifications

Support

FAQs

Customer Reviews
8 Hours of Wireless Playback with Speed Charge Battery
Bluetooth wireless allows you to stream high quality music through a full 8 hours without the worry of messy wires interfering with your workout. In just 10 minutes, you can power your headphones for an hour of use


* This JBL ENDURANCE DIVE Headphones image is for illustration purpose only. Actual image may vary.
Built-In MP3 Player
Thanks to the on-board 1GB memory, you can easily store and access more than 200 music tracks directly from your headphones


* This JBL ENDURANCE DIVE Headphones image is for illustration purpose only. Actual image may vary.
PowerHook
Secure fit ear hook design, which automatically turns the power on/off when putting on or taking off the earphones.


* This JBL ENDURANCE DIVE Headphones image is for illustration purpose only. Actual image may vary.
Waterproof Wireless In-Ear Sport Headphones with MP3 Player
When your routine takes place both in and out of the water, JBL Endurance Dive headphones are built to keep up. Assured never to hurt or fall out, Dive amplifies your workout with an IPX7 waterproof rating. Its sleek PowerHook design powers on automatically when you slip it behind your ear, while a secure wireless neckband keeps it in place. Leave your device behind with Dive's 1 gigabyte memory storage (up to 200 music tracks), accessed with touch controls. And with 8 hours of battery, Dive is ready to hit the pool, track, and gym all in one day.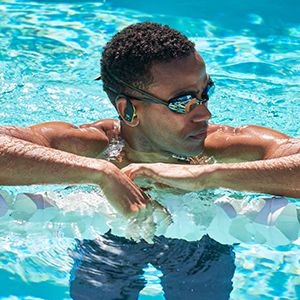 * This JBL ENDURANCE DIVE Headphones image is for illustration purpose only. Actual image may vary.
---
Specifications
Headset Audio Related
Response bandwidth

20 Hz - 20 KHz
Headset Connectivity
Form Factor

Behind-the-neck

Recommended Activity

Sports, Exercise, Swimming
Headset Controls
Indicators

Battery Status, Pairing successful, Bluetooth Pairing, Charging Indicator
Battery Related
Battery Life

Up to 8 hours

Battery Type

Li-Ion/Li-Poly

Battery Charge Time

2 hour
Physical Dimensions
Sweat & Rain resistant

Yes

Ear Cushion/Bud Material

Silicon Rubber
Additional Features
Features

120 mAh Lithium-ion polymer
Durable Silicon Carrying Case
Siri and Google Now Support, 16 ohms Impedance
Silicon Ear tip material, Speed Charge battery
HFP v1.6, A2DP v1.3, AVRCP v1.5 Bluetooth profiles
2.402 GHz-2.48 GHz Bluetooth frequency
In The Box & Warranty
In The Box

3 sizes of ear tips, Enhancer, Charging cable, Sport Carry Pouch, Warranty / Warning, Safety Sheet / QSG
Manufacturing & Packing Information
Commodity name

Headphones and earphones, whether or not combined with a microphone, and sets consisting of a microphone and one or more loudspeakers

Name and address of Importer

Harman International (India) Pvt. Ltd., Prestige Technology Park, 4th Floor, Jupiter 2A Block, Marathali Ring Road, Bangalore- 560103, India.

Name of Seller

Reliance Retail Ltd.

Month and Year of Commodity First Manufactured/Imported/Packed

June' 2018
---
Support
Endurance Series Headphones: Pairing Information
If connecting for the first time, the headphone will enter pairing mode automatically after it is powered on. To turn the headphones on, simply spread apart the RIGHT power hook from the cord. You will see solid red LED and then it will flash blue as it begins to search for a device to connect to. The Endurance headphone should pop up on your discoverable devices within a few seconds and you should be connected! If you wish to turn off the headphones, remove them from your ear and allow the RIGHT power hook and cord to close together. This is magnetized, so they should close together with ease.

Explaining the different Bluetooth profiles used in our devices:
Many of our Bluetooth devices have a specification sheet like Bluetooth Profiles Supported: A2DP v1.5/AVRCP v1.6. These are the protocols that a specific Bluetooth speaker or Headphone device is compatible with. This might look too technical for some customers, but all you need to know is that Bluetooth Speakers and Headphones they are the only ones with these profile that you need to be aware of:

A2DP – A2DP stands for 'Advanced Audio Distribution Profile' and is a Bluetooth protocol that allows mobile users to stream high quality (stereo or mono) audio wirelessly. If you want to listen to your music on a pair of Bluetooth headphones or speakers, both devices need to support this.
AVRCP – AVRCP stands for 'Audio/Video Remote Control Profile' and controls remote functions such as pause/start/skip/forward.
HSP – HSP stands for 'Headset Profile' and is a Bluetooth profile to enable a two-way wireless Headphone to be used with a Bluetooth smartphone. In our Headphones this is one of the most common Bluetooth profiles and supports simultaneous two-way (full-duplex) audio, but it does not support stereo audio.
HFP - HFP Stands for 'Hands Free Profile'. This profile provides the same abilities as HSP does, but adds abilities such as redial last number called, voice dialing and call waiting.

Note for HSP and HFP:
You can also use it with devices other than phones, like your Computer/PC with a Bluetooth Headphone that could be used with a Bluetooth-enabled PC and VoIP software to place an Internet phone call (NOTE: some PC software requires different drivers for specific purposes like SKYPE - Always refer to the manufacturer of the PC/Laptop for help with setting this up).

Endurance Series Headphones: Phone Information
To answer call, press the "L" on the JBL logo on the RIGHT ear for 1 second. To hang up, press the "L" for 1 second. To ignore the call, press and hold the "L" for 2-3 seconds.

Endurance Series Headphones: Track Control
To pause/play press the "L" on the JBL logo located on the RIGHT ear for 1 second. If you want to skip the track forward, press the "L" on the JBL logo on the RIGHT ear hook for 2 seconds. To skip tracks backward, press the "L" on the JBL logo on the RIGHT ear hook for 3-4 seconds.

Endurance Series Headphones: Volume Control
To control the volume, simply move your finger up the ridges above the JBL logo on the RIGHT ear to increase the volume. To decrease the volume, move your finger down along the ridges.


---
FAQs
Can you use Bluetooth while under water using the Endurance Dive?
No. Bluetooth does not work under water. The Endurance DIVE however has a built-in MP3 player for music, and is IPX7 waterproof. This means you can use the headphones submerged to 1 meter depth, up to 30 minutes at a time. Also note that for normal swimming, you won't be submerged all the time, so the headphones should be waterproof for the duration of your swim.

Can the Endurance Series be connected to more than one device at a time?
The headphones can pair to multiple devices but can only be connected to one device at a time.

Can the JBL Endurance DIVE be used in salt water (i.e. sea)?
The JBL Endurance DIVE can be used in salt water (i.e. sea) but we recommend to thoroughly wash the headphones in fresh water after every use in salt water, to remove the salt residue.

How to add music to the Dive Headphones?
1. Place the MP3 music files that you want to transfer to the Dive headphones on your computer, where you can find them again. The sequence is not important, they will be played in alphanumerical sequence. If you want to have a special sequence to your tracks, you can add a number as the first file name.

2. Connect the Dive to your computer with the USB cable. Please use the cable that came with the headphones, since other USB cables may be wired for charging only, and may not work.

3. Your Dive will now pop up in your explorer folder overview as a new drive. Total capacity is about 991 MB.

4. Now you simply drag-and-drop the MP3 files from their location onto the Dive, or you mark the files, copy them and paste them onto the Dive. Do not use folders of any kind, and do not try to place other file types on the Dive's memory. MP3 files with a resolution of 320 kbits/second is maximum quality possible. Please note that the owner's manual contains an error about random play, stating that MP3 play will always be done in random sequence. Unfortunately, this is an error. All replay of MP3 files from the internal memory is alphanumerical, NOT random. As mentioned above, you can add a number to the track title, and the tracks will be played in numerical order, until no more numbers are present, after which replay is in alphabetical order.