Eureka Forbes Vogue 1400 watts super silent Vacuum cleaner with blower and suction
(491296777)
Gain more with offers (2)
Warranty
Warranty: 1 Year manufacturer warranty
Key Features
On-board accessory storage facility for quick access and convenient cleaning
High power suction of 1400 W that can clean the toughest dust and dirt
Automatic power cable winder which can store the cable into the unit with the press of a button
Return Policy
For return eligibility. Read-T&C

All accessories, product & packaging need to be returned in original condition.
Got Feedback to share on this page?
 report here.
Offer Price:  

₹

6,499.00

MRP:

₹

8,800.00

  (Inclusive of all taxes)

You Save: 26%(₹2,301)

FREE Shipping!
Overview

Description

Specifications

FAQs

Customer Reviews
Overview Eureka Forbes Vogue 1400 watts super silent V...
Now your home will always look spick and span with the new Eureka Forbes Vogue Canister Vacuum Cleaner. This durable vacuum cleaner is made with superior grade ABS plastic. This lightweight and portable vacuum cleaner easier for you to carry it while cleaning. Its 5-meter long power cord lets you move around conveniently. This vacuum cleaner has both suction and blower ends and is intelligently incorporated with advanced technology that effectively removes dirt and dust from your home, thereby keeping you and your family healthy. This vacuum cleaner has a 1400 W motor that delivers a powerful suction of 2400mm which keeps your home dirt-free. The Vogue is designed with onboard storage facility for all the accessories for you to conveniently access them. This cleaner has an LED variable power control knob that lets you set the power to low, medium or high speed to suit your varied cleaning requirements. This vacuum cleaner comes with a sturdy and flexible pivot hose and extension tubes that help you to clean every corner of your home effortlessly without the need for you to bend or stretch. It also has various attachments for cleaning like; the floor cum carpet brush, upholstery cleaner, multi-purpose brush and crevice nozzle. Depending on the area you want to clean, simply insert the desired accessory into the hose. Now for instance, when you want to clean the carpet, mat or the floor simply attach the hose to the suction end, followed by the extension tube and then the floor cum carpet brush. The carbon-coated electrostatic fibre in this brush pulls the dirt from the floor with ease. This brush also has a button, which when pressed the carbon fibres go inside and converts it into a carpet brush. The nylon strips on this brush loosens and pulls out the dirt and grime settled on the mats and carpets. Use the multi-purpose brush to clean photo frames, delicate decorative items, electronic devices like laptop or keyboard and more. The crevice nozzle helps you in cleaning the gaps between window panes, sofa sets, corners of the walls and ceilings with ease. Fine dust and dust mites can irritate your skin while sleeping on the bed or sitting on the sofa, thus to keep your cot or sofa free from the microscopic dust mites and fine dust particles, use the upholstery brush. This brush removes dirt and dust mites from sofas, curtains, pillows and bedsheets effectively. The nylon strips in this cleaner pull the dirt from delicate upholstery and linen without any damage. This vacuum cleaner is equipped with a reusable dust bag that can be cleaned periodically. When this reusable dust bag gets full, the LED dust bag full indicator blinks and notifies you to empty the bag. It even restricts the cleaning by dropping the suction power unless the bag is emptied. In addition to this, it is also integrated with an automatic power cable winder which enables the cord to be stored in the unit itself for added convenience. So now, you no longer need to juggle between holding the power cord in one hand and worrying about it getting damaged as you carry the vacuum in another room. Just press the button to rewind the cord when the cleaning is done.
Go ahead and add this product to the cart with confidence at
www.reliancedigital.in
.
---
Description Eureka Forbes Vogue 1400 watts super silent V...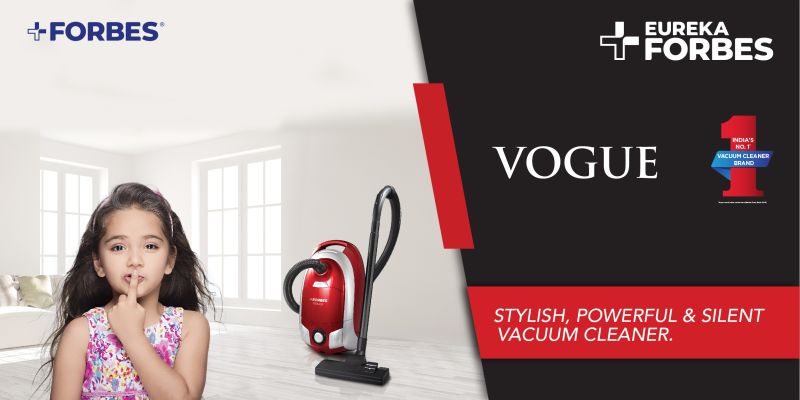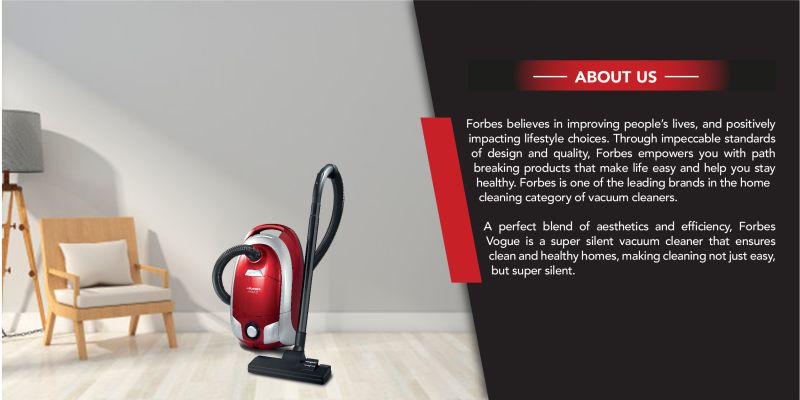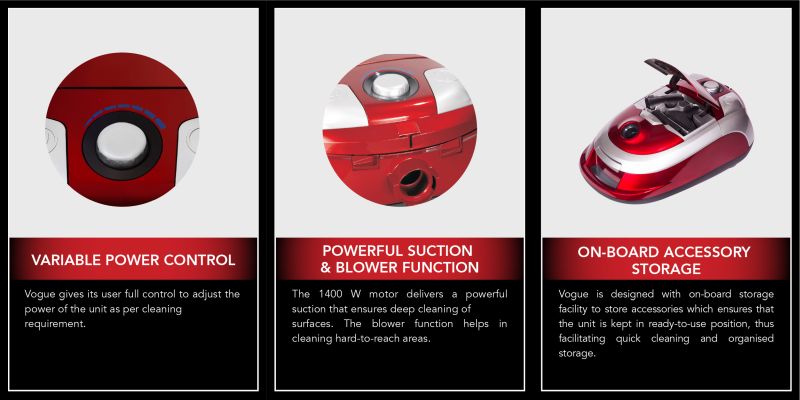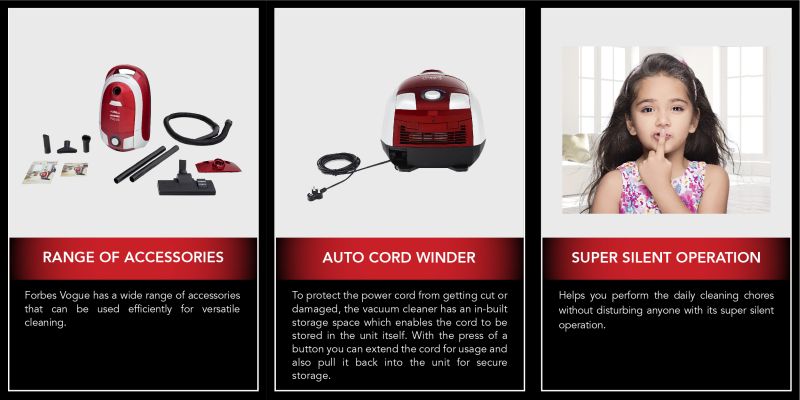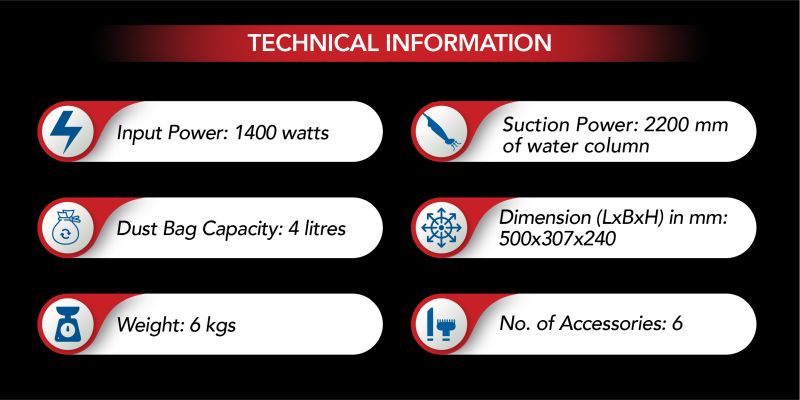 * This Forbes Vogue Vaccum Cleaner image is for illustration purpose only. Actual image may vary.
---
Specifications (Eureka Forbes Vogue 1400 watts super silent V...)
General Information
Vacuum Cleaner Type

Canister Vacuum Cleaners
Convenience Features
Working Radius

5 metres-7 metres (Medium Room Size)
Attachment Details
Brush Types

Multipurpose brush, Floor brush, Upholstery cleaner, Crevice cleaner

Nozzle Types

Crevice cleaner
Indicators & Alarms
Indicators

Dust Bag Full Indicator
Technical Specifications
Motor & Suction Power

220 Watt
Additional Vacuum Functions
Alexa/Google Assistant Compatible

No

Pet hair & fluff cleaning support

Yes
Features
Surface Recommendation

Multi-Surface (Hard & Carpet)

Power Consumption

1400 Watt

Power Supply

220-240 V, 50-60 Hz
Additional Features
Features

Suction of Motor: 2200 mm of water column
Air Flow: 2 m3/minute, Deep Cleaning Purpose
Indoor Usage Area, Dry Usage Surface, 5 mt cord
Auto Cord Winder, On board accessory storage for easy usability
In The Box & Warranty
In The Box

Upholstery cleaner, Floor brush, Crevice cleaner, Multipurpose brush
Manufacturing & Packing Information
Customer care address

Reliance Digital, Reliance Retail Limited, 3rd Floor, Court House, Lokmanya Tilak Marg, Dhobi Talao, Mumbai-400 002, Maharashtra, India.

Customer care Phone

1800-889-1055

Customer care email

reliancedigital@ril.com

Name and address of Packer

Eureka Forbes Limited, 701, 702, Marathon Innova, Lower Parel, Mumbai 13

Name and address of Manufacturer

Eureka Forbes Limited, 701, 702, Marathon Innova, Lower Parel, Mumbai 13, Eureka Forbes Limited, 701, 702, Marathon Innova, Lower Parel, Mumbai 13

Name and address of Importer

Eureka Forbes Limited, 701, 702, Marathon Innova, Lower Parel, Mumbai 13

Name of Seller

Reliance Retail Ltd.

Month and Year of Commodity First Manufactured/Imported/Packed

August' 2020

Commodity name

VACUUM CLEANER

Name and address of Marketed By

Eureka Forbes Limited, 701, 702, Marathon Innova, Lower Parel, Mumbai 13
---
FAQs (Eureka Forbes Vogue 1400 watts super silent V...)
Dusting, sweeping and swabbing is a part of our daily cleaning regime. Do I still need to invest in a deep cleaning technology?
While your home may look clean on the surface, there may be invisible dust mites hiding in your home. Dusting and sweeping only displaces the dust and will not help you get rid of smaller particles. Further, a wet swabbed floor attracts particles which helps bacteria breed. What you need is a robust cleaning technology that tackles both the visible and invisible dirt and dust. And leaves your home truly clean.
While using vacuum cleaners, is there a chance to get electrocuted?
Our vacuum cleaners are "doubly insulated" with a PVC jacket to ensure complete safety with no electrocution.
Do higher amps result in better cleaning?
Consumers are often tempted to choose a vacuum cleaner based on the highest amperage, watts or horsepower, but these measurements are not accurate indicators of efficiency. They are simply numbers that measure the electrical current used by the vacuums' motor. What you should be looking for instead is the vacuum cleaners' airflow, suction and water lift. They are better indicators of performance.
I already own a vacuum cleaner, can it be upgraded?
We offer accessories which will help you extend the use of your vacuum cleaner. However, the motor etc., cannot be replaced.
You may also like
Offer Price: ₹23,490.00
M.R.P:  ₹54,900.00
You Save:  57%(₹31,410)57%(₹31,410)
Offer Price: ₹8,549.00
M.R.P:  ₹14,990.00
You Save:  43%(₹6,441)43%(₹6,441)
Offer Price: ₹3,099.00
M.R.P:  ₹3,299.00
You Save:  6%(₹200)6%(₹200)
Customer Reviews  
(Eureka Forbes Vogue 1400 watts super silent Vacuum cleaner with blower and suction)
There are no reviews for this product yet.